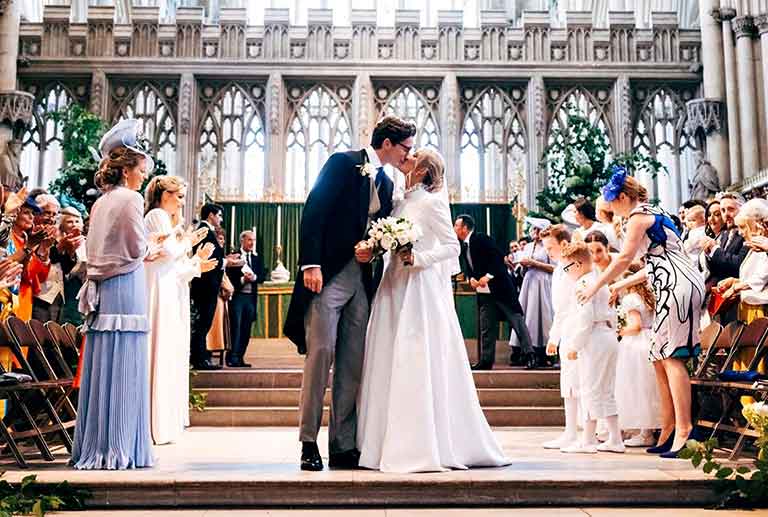 A wedding is a lifetime event for all. Everyone dreams of making it as memorable as possible within their budget. But, when it comes to celebrities, budget is not a constraint; they have all the resources to make their weddings a lavish affair. Today we will discuss some standard features that make the celebrity 'I do' moment so expensive.
From Italian villas to stunning gardens and royal castles, you will witness luxury weddings in celebrity weddings. According to Forbes magazine, the most significant expenditure of any celebrity wedding is on the venue. One of Hollywood's favorite couples Mariah Carey and Nick Cannon had renewed their vows in Disneyland, which cost them around $180,000.
Madonna and Guy Ritchie booked the whole Scottish castle for their reception and wedding ceremony, which cost them about $1 million. There are still many more on the list who had selected lavish venues for their wedding.
With their huge budget, celebrity brides spend quite a lot when it comes to their wedding dresses. Some like it to be embellished one while some go with custom-made gowns. After all, the wedding gown is the most eyed element of the celebration, and celebs love to get talked about.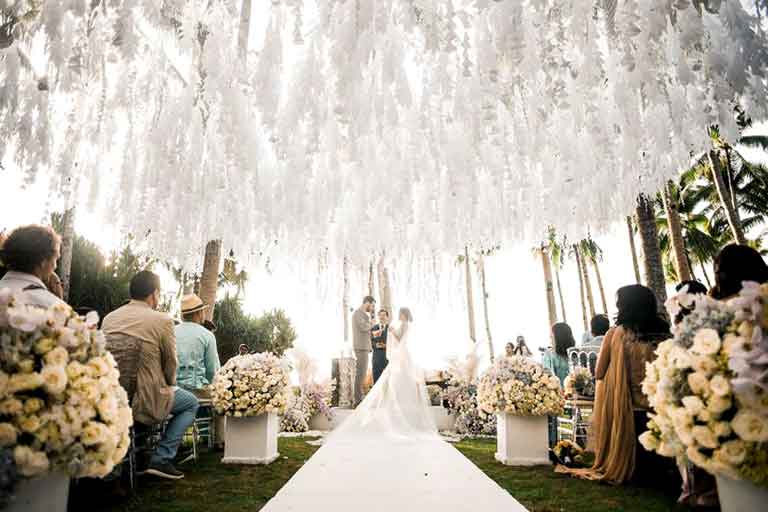 With her Alexander Macqueen dress designed by Sarah Burton estimated to cost $3.5 million, Serena Williams had one of the most expensive wedding gowns of all time.
Kim Kardashian's custom-made wedding gown, with long sleeves and trumpet silhouette, came with a price tag of $500,000.
Celebrity weddings have many essentials with a pricey price tag, and the wedding cake is one of them. Celebs take their glitzy moment to the next level and make sure that each wedding element should be grand enough, even if it is just the wedding cake. If you are thinking about the possibilities, they are endless, from real flowers to edible sugar flowers and crystal, there are a lot more to make a pricey bake. One of the most expensive cakes belongs to Kate Middleton and Prince William. They cut 2 two cakes, one in afternoon reception and the other in an evening reception, each costing around $80,000. Nick Jonas and Priyanka Chopra's giant white and golden cake cost about $20,000. The eight-tired cake covered with roses costing approximately $50,000 belongs to none other than Donald and Melania Trump. So, for celebs, even a cake can get a big slice from the budget.
Making the marriage a private affair and keeping the media out of the bay staging proper security is one of the significant costs incurred in celebrity weddings. Brad Pitt and Jenifer Aniston, had spent $100,000 alone on security for the event in 2000. In 2011, Prince William and Kate Middleton had one of the most expensive weddings,  spending $32 million dollars on security alone. But you don't need to worry about the price tag when you belong to a royal family.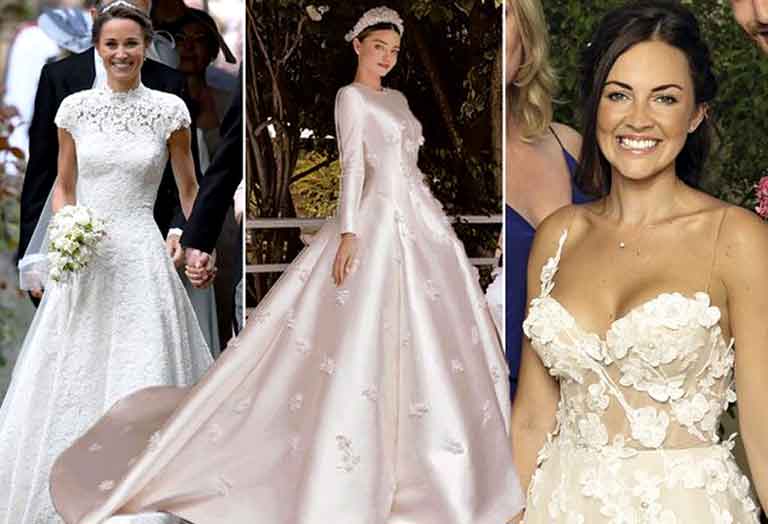 From the Rolls Royce limousines to private jets, celebrity weddings have all that fairytale details regarding transportation for the bride, groom, and guest. The cost is even higher in the case of destination weddings. For celebrities, wedding transportation is also one of the crucial wedding details. On average, the transportation cost for these high-profile weddings usually costs somewhere around 100,000-500,000 dollars, including guest transportation.
The crowns, arches, bouquets for the bride, and extravagant décor with imported flowers every single detail of a celebrity wedding is stunning and mesmerizing. The west wedding of Kim Kardashian decorated with carnations, roses, and other exotic flowers was undoubtedly glamorous. The total cost of this floral decoration was around 170,000 $. It is of no surprise that the decoration of the royal wedding of Kate Middleton and Prince William came with a royal price tag of 200,000 $. It featured all the royal flowers like Ivy, Lily of the valley, and Hyacinth.
What else can make the wedding a grand event than fireworks display and bands? In ancient times only royal weddings include such displays, but now every celebrity wants to make this display a part of their nuptial celebrations. According to a survey, these exquisite details have increased the cost of luxury weddings by about 10-15%. Fireworks and bands in celeb wedding can cost anywhere between 50,000 to 200,000$.
Performances by well-known celebrities are becoming a common trend for expensive weddings, and the celebs are following that too. American singers Usher and Robert Thicke performed at the $10 million weddings of basketball legend Michael Jordan and his partner, Yvette Prieto.
The food and the drinks are an inevitable part of every wedding, and it shares 30% of the total wedding cost. For celebs, it goes even higher with their spendthrift menus. In the second wedding of Paul McCartney with heather Mill, the couple had arranged a wholly vegetarian menu for their guest, costing them around 1 million $. American actress Tori Spelling and Charlie Shanian tied their knot in a lavish wedding and offered sumptuous food for their guest, including a champagne fountain. The price tag of the event was 1 million $.
With the dazzling decoration, the security for keeping a check on wandering eyes, the destination weddings, vintage vehicles, pricey dresses, and delicious food, there is an endless list of details for making a celebrity wedding an expensive affair.